Posts for tag: dental implants
By Keizer Smile Center
December 17, 2016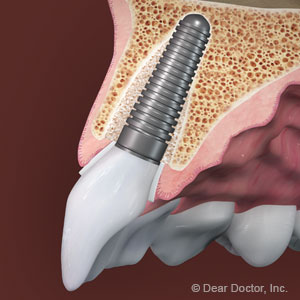 Dental implants are all the rage. And why not — not only are these tooth replacements life-like and highly functional, they have an amazing 95% ten-year success rate.
Some of that success is due to their unique design. Technically a root replacement, an implant's metal titanium post is surgically placed in the jawbone, where bone grows and adheres to it over time. This creates a strong connection that stands up well to the forces created by biting and chewing.
But there's more to their longevity than design. Success also depends on a careful, planned process that begins long before surgery.
It starts with a detailed oral examination to determine the best placement for the implant. Besides regular x-rays, we may also perform CT scans to create a three-dimensional view of your jaw. With this we can locate and avoid nerves, sinus cavities or other structures near the implant site.
The examination also helps us determine if you've experienced any bone loss, a normal occurrence after tooth loss. Implants require an adequate amount of bone to achieve the best position. A good position ensures future bone integration and the best appearance result.
The same attention to detail extends to the actual surgery to place the implant. We fashion the site to receive the implant by sequentially drilling larger tapered channels until we achieve the right size fit for the implant. During drilling we avoid overheating the bone, which could ultimately weaken and damage the implant's stability.
We'll also need to provide protection for the implant while it integrates with the bone. In most implantations, we do this by suturing the gum tissue over the implant. We take a different approach with a "Tooth in a Day" procedure where we attach a crown (the visible portion of the tooth) right after implant surgery. In this case we'll install a crown (which is actually temporary) that's a little shorter than the adjacent teeth. The natural teeth around it will absorb the forces produced while chewing and not the implant crown.
Focusing on these and other factors will greatly reduce the risk of implant failure. Paying careful attention to them helps ensure your new smile is a lasting one.
If you would like more information on dental implants to restore your smile, please contact us or schedule an appointment for a consultation. You can also learn more about this topic by reading the Dear Doctor magazine article "Dental Implants: A Tooth Replacement Method That Rarely Fails."
By Keizer Smile Center
September 16, 2016
Tooth loss can seriously affect your oral health. Turn to dental implants to turn everything around.
When it comes to your dental health you want all the best. If you are dealing with tooth loss, you want something that will provide you
with new teeth that will truly last. Dr. Trenton LeBaron, your Keizer, OR family and cosmetic dentist can show you how dental implants can improve you smile's appearance and oral health. Dr. LeBaron has received advanced dental training in the placement and restoration of dental implants.
A dental implant, which is a small metal post, mimics the roots of teeth and is designed to support everything from a single tooth dental crown to multiple teeth. This surgical procedure involves placing a metal post into the jawbone where it will naturally integrate to become a permanent foundation that will support and hold a false tooth or other dental restoration.
There are many benefits that dental implants can offer you:
Dental implants look and feel just like a real tooth so most people won't know the difference.
Unlike dentures, dental implants actually fuse together with the jawbone so you don't have to worry about them slipping around in your mouth. This also means that you can enjoy eating all your favorite foods without the problems of traditional dentures.
Implant restorations are made from titanium, so not only are they biocompatible but they are also durable.
Getting implants can prevent teeth from shifting out of place, jawbone deterioration and facial structure changes. In fact, implants can actually stimulate the growth of new bone cells to help maintain a healthy jawbone.
If you are missing one or more permanent teeth and are in good health, then you could be a good candidate for dental implants. Implant treatment can take several months and even up to a year to complete, but what you'll gain is a full smile that will truly last. If you are committed to maintaining good oral hygiene then dental implants could be a great option for you.
Find out whether dental implants could restore your smile. Call Keizer Smile Center to schedule your consultation.
By Keizer Smile Center
March 06, 2016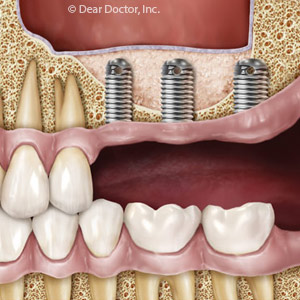 Dental implants are by far the best way to replace missing teeth. But they do more than improve your smile: they can restore your ability to eat, chew and talk properly, especially if the teeth replaced are in the back of your mouth. What's more, they can improve the entire look of your face by restoring facial height and cheek support lost because of the missing teeth.
There is, however, one obstacle to overcome before receiving dental implants — a lack of sufficient bone at the implant site. Bone loss usually occurs when teeth have been missing for some time. This is because when we chew the forces generated by the teeth stimulate continual bone growth to make up for older bone that has dissolved (resorbed). This stimulation doesn't occur after teeth are lost, which slows the rate of bone growth. Over time the amount of healthy bone diminishes.
Without enough bone for support, implants can't be placed properly. Fortunately, some of the bone can be regenerated through techniques that place bone grafting material at the site to stimulate and serve as a scaffold for new bone.  The new bone will eventually replace the graft.
For missing upper back teeth with bone loss, we can take advantage of facial anatomy to grow the bone needed for implants. This area of the face is where the maxillary sinuses, air spaces lined with a tissue membrane, are located on either side just above the upper jaw. After determining their exact size and location through detailed x-ray imaging, we can surgically access the area inside the mouth just above the missing teeth.
The sinus cavity is an area where bone growth can occur by placing a bone graft between the floor of the sinus and the sinus membrane. Sometimes bone growth enhancers are used to stimulate and speed up regeneration. The procedure can usually be performed with local anesthesia (much like a routine tooth filling), with only mild discomfort afterward for a few days managed by an anti-inflammatory drug like ibuprofen and a decongestant for sinus swelling.
After six to seven months, we re-evaluate the area to see if sufficient bone has returned for implant surgery. If so, you will be well on your way to achieving a new look and better function through dental implants.
If you would like more information on building new bone through sinus surgery, please contact us or schedule an appointment for a consultation. You can also learn more about this topic by reading the Dear Doctor magazine article "Sinus Surgery."